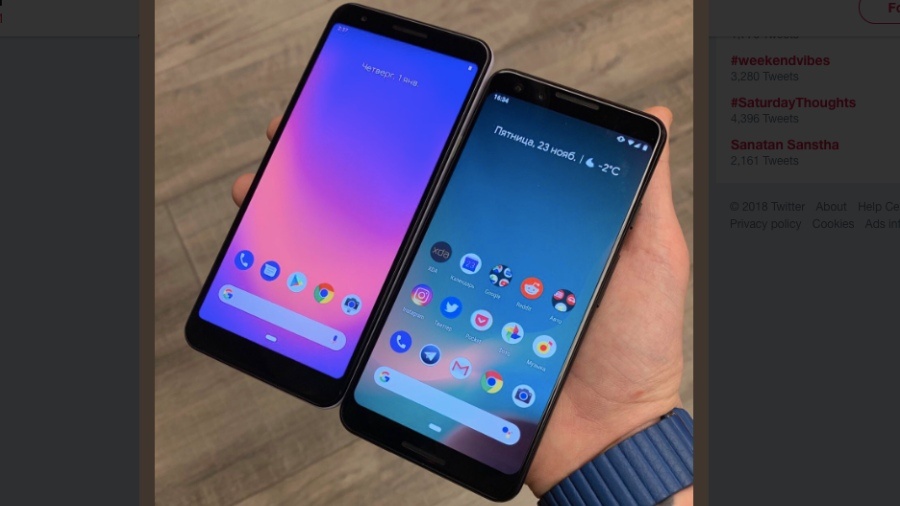 Google's Flagship phone Pixel 3 and Pixel 3 XL leaked numerous times before it's official launch by the company before the official launch. Today another leaked photo of Google Pixel 3 Lite, the mid-range variant has emerged, pictured right next to Pixel 3.
— Ben Geskin (@VenyaGeskin1) November 23, 2018
I've written about in the previous post. The mid-range variant is codenamed "Sargo" features Qualcomm Snapdragon 670 and is expected to have 4 GB RAM and 32 GB storage. It also has a 3.5mm headphone jack, which has disappeared from Pixel 2.
The budget Pixel 3 Lite is also expected to have 12 MP rear camera found in its high-end variant, and on the front, it would have a single 8 MP camera as compared to Pixel 3 and Pixel 3 XL's dual selfie camera.
With the camera provided, it would easily be a preferred choice for photography lovers. A few days earlier, camera samples of Pixel 3 Lite were leaked showing that the budget variant would shoot good
photographs even under low-light conditions.
Google Pixel 3 Lite "Sargo" leaked: plastic back, 4+32GB, jack 3.5, 2915mAh, Snapdragon 670.

Same camera as Pixel 3. pic.twitter.com/eVLulZqA9o

— Ben Geskin (@VenyaGeskin1) November 16, 2018
If reports are to be believed, the lite edition will come with Android 9 only in selected markets which is contrary to Google's tradition of providing latest version of Android in their hardware.
Google Pixel 3 Lite is expected to be launched in price range of $400 – $500. WIth the number of incoming leaks, we can expect Google to announce the smartphone soon enough.